LOCAL ARTIST ADDS HIP HOP TO SALINA'S CENTRAL MALL

(Salina, Kan.) Salina's Central Mall has a new look with the addition of a new mural for the I Love the 90's Tour coming to Tony's Pizza Events Center March 31st at 7:30 PM.
Local Salina artist Mary Newsome was commissioned by Tony's Pizza Events Center and the Central Mall in Salina to paint a mural giving tribute to the decade of the upcoming concert. Newsome, a Salina Central graduate, currently works at Excide in Salina and has been creating unique works of art for years.
"My favorite [high school] classes were or course, Art 2D with Mr. Cullins and advanced Art 3D with Mrs. Blanks." Newsome used the inspiration of old school hip hop for her design. "Coolio's 'Gangsta's Paradise' is one of my favorite songs." Her brother also helped foster her love of hip-hop at a young age. "My brother used to listen to hip hop around us and that's when I started liking it." Newsome's son, Trévon age 12, is into hip hop as well.
In addition to painting, Mary also has a cake decorating business in which she brings her amazing talents to baked goods. Mary's Sweet Sensations started in 2010 when she wanted to make a special cake for her then five-year-old son. "I love sweets," says Newsome. "I would always watch the cake decorating shows to see how they did stuff. I started in 2010 and made him two Cars cakes." Cake decorating has become another way for Newsome to express herself through art. "I get to paint and draw on the cakes and mold the fondant into little structures that go with whatever theme I'm doing. The only difference [between her paintings and cake decorating] is it's edible."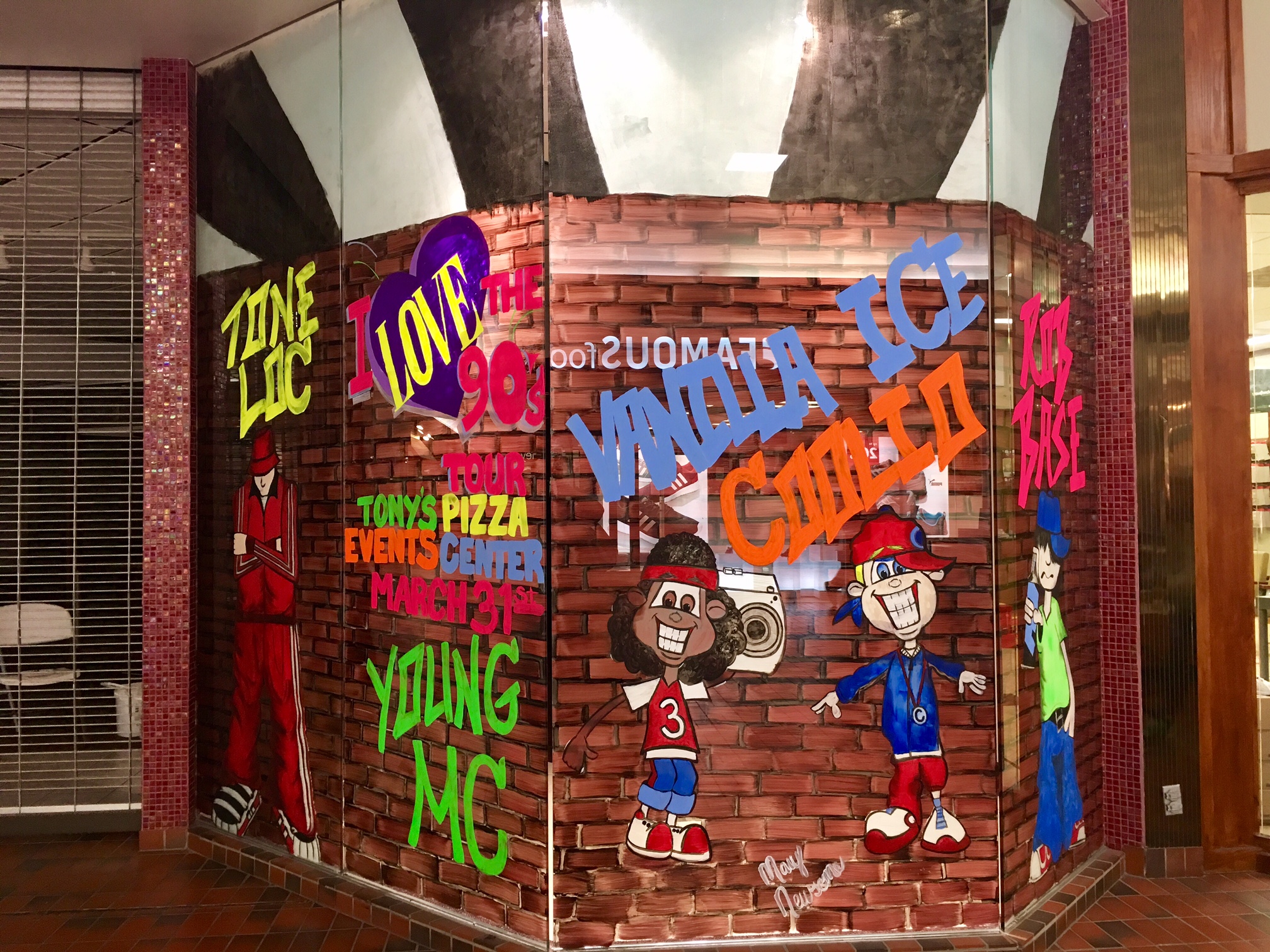 The mural for the I Love the 90's Tour by Mary Newsome is located west of the food court at Salina's Central Mall and is on display now till until March 31st